What is the Importance of Watts in Mixer Grinder? – All you need to know about Mixi Watts
Are you considering buying a new mixer grinder? But at the same time finding it difficult to figure out the ideal Mixer Grinder Wattage for Home Use? Then you're like one of my buddies who inquisitively posed this question to me, "mixer grinder kitne watt ka hota hai?" (in what all wattages are the mixer grinders available) (मिक्सर ग्राइन्डर कितने वाट का होता है?) 🙂
Let me help you out to find the answer to this question, the way I explained it to my friend.
We begin by understanding the definition of Watt.
What is the importance of Watts in Mixer Grinder?
Mixer Grinder Wattage Explained
What is Watt (W)?
Watt is a unit of power. Its symbol is W. In simple words, watt is the unit to measure the rate of energy transferred. Electric power is the rate at which electrical energy is transferred by an electric circuit, per unit time. The unit of power is named after the 18th-century Scottish inventor James Watt.
What is watts in mixer grinder?
Similar to all other appliance running on electricity, the power consumption of a mixer grinder is also measured in watts (W). In simpler terms, this is the parameter that we usually look at while talking about the performance level of the mixer grinder. The more is the wattage, the better is the rotation per minute (RPM) of the blade leading to higher speed & efficiency. Let's understand the mixer grinder motor RPM.
Mixer Grinder Motor RPM (Rotations Per Minute)
Mixer grinder RPM indicates the number of turns that the blade makes in a minute. The RPM of a mixer grinder is yet another important factor to consider while buying your best mixer grinder. So, it is an indication of the speed with which the blade can rotate in a minute. For a mixer grinder for home use, RPM ranging from 18000 to 23000 RPM is reasonably good.
However, it is important to assess your need before buying a mixer grinder. Do not end up buying a mixer grinder having more wattage (and RPM, of course) than is actually required.
Read on to understand more!
Power Consumption of Grinder in Watts
Now, when we are talking about mixer grinder power consumption, let's take a dig at it in order to have a clear understanding.
Mixer grinders, these days, are being offered by many brands and each brand has got multiple models to choose from. In addition to other important features, mixi wattage is one of the key factors which we are keen to know to pick the right product.
How many Watts does a mixer grinder use?
Mixer Grinders are available in many choices like up to 500 watts mixer grinder, between 500 w and 750 w mixer grinder, and even heavy-duty 1200 watt mixer grinder meant for commercial use.
Wattage of Mixer Grinder in India
To have an understanding of Mixer Grinder Wattage in India, have a look at this indicative list of mixer grinder watts.
Mixer Grinder Power Consumption
300 Watts
400 Watts
500 Watts
550 Watts
650 Watts
750 Watts
800 Watts
900 Watts
1000 Watts
1200 Watts
1400 Watts
2000 Watts
So the question still remains that what is the adequate wattage of a mixi grinder? To put it in the way that my friend had put, how much watt mixer grinder is good? 🙂
Let's understand by bucketing them all in three major categories.
Mixer Grinder Wattage for Home Use
Upto 500 watts mixer grinders – The mixer grinder machine upto 500 watts can be termed as an entry-level mixer grinder which is ideal for normal usage. Apart from saving on energy, it is a perfect low-cost and affordable option. But these are sufficient for all your routine mixing, grinding, and blending needs.
Between 500 watts and 750 watts – Those between 500 watts and 750 watts form the widely preferred range and are the most popular mixer grinder in the category. They are ideal for the Indian kitchens and help us with our entire kitchen functioning fairly well. Whether you are looking for a chutney mixer to make delicious chutneys or simply the one for preparing puree for nutritious vegetable soup, the mixer grinder in this range does it all.
Mixer grinder above 750 watts – These are heavy-duty mixer grinders. Particularly the mixer grinder of 1200 watts and above are suitable for commercial use like in hotels, restaurants, etc. If you are eyeing to buy a powerful masala mixer grinder for that tough grinding of dry masalas, haldi or coconut in larger quantities, you may go for a good quality mixer grinder in this range.
How many watts Mixer Grinder is good for home?
For your home use, a mixer grinder from 500 watts up to 750 watts is good enough.
How many watts is good for mixer grinder?
Wondering how much watt mixer grinder is good for home? For home use, a 500 watt mixer grinder model is sufficient if your requirement is not too much. The basic model does most of the jobs well.
However, if your budget allows, you may opt for a high-end model, anything between 500 watts and 750 watts. It perfectly takes care of almost all your daily cooking needs and is the most favored range in Indian kitchens.
And, if you are looking for a heavy-duty mixer grinder for your home, you can opt for a model of more than 750 watts and up to 1200 watts.
Finally, those above 1200 watts are ideal for commercial use i.e. if you are in the food business.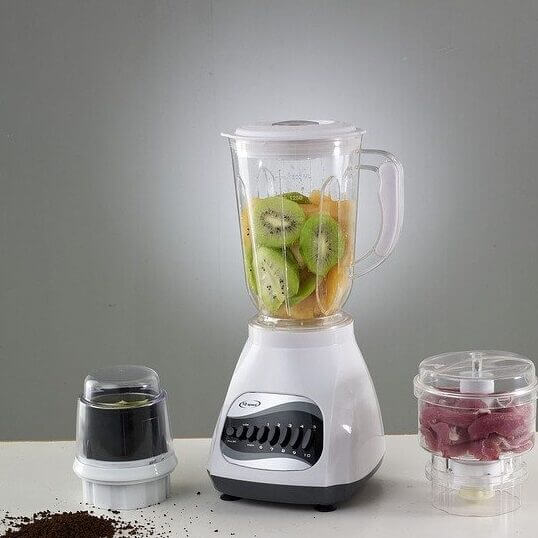 How to Choose a Mixer Grinder
Mixer Grinder is no more a luxury but a must-have appliance in Indian Kitchens. A good part of your day is spent in the kitchen making a variety of dishes for your family. So, to make your daily chores done easily, you can rely on modern kitchen appliances. A 'mixie', as it is commonly called in India, is one such essential appliance. 🙂
To choose the best mixer grinder, you must consider the important parameters which are vital to the performance of a mixer grinder. Some of these deciding factors are:
number of jars
mixer grinder watts
mixer grinder motor RPM

noise level

of mixer grinder
jars and blade material
safety features
weight
warranty
after-sales service
service center location
brand, and
your budget, of course.
OUR HANDPICKED RECOMMENDATION
✅ List of Top 5 Best Silent Mixer Grinders in India
Soundless Mixer Grinder model
Sound less Mixer Grinder-
Sound in Decibels (dB)
Noiseless Mixer Grinder -Jars
Silent Mixer Grinder – Watt
Philips Simply Silent (HL1643/04)
87 dB
3
600
Philips Simply Silent (HL1643/06)
87 dB
5
600
Preethi Blue Leaf Diamond
80 dB
3
750
Preethi Blue Leaf Platinum (MG139)
85 dB
4
750
Orient Electric Kitchen Kraft (MGKK50B3)
80 dB
3
500
✅ Don't Miss To Explore A Few More Bestselling models of Mixer Grinders in 2023
Mixer Grinder Buying Guide
We have a dedicated article on Mixer Grinder Buying Guide where we have discussed all the features of mixer grinder at length. We highly recommend you go through this article. It will definitely help you to choose the mixer grinder which best suits your needs.
Absolute Buyer's Guide for Mixer Grinder
What more?
You can also choose from the Top selling & Best Mixer Grinders for Domestic Use under ₹10000 in India in 2023 and even buy online.
Also Read:
Mixer Grinder Watts Tips
The more the wattage, the more is the mixie power consumption
The more the wattage, the more is the rotation per minute (RPM) of the motor, leading to faster processing and time-saving
Models with higher wattage, in some cases, come with bigger jars.
Conclusion
In this article, we've provided some insight on the most commonly asked question – Which mixer is best 500w or 750w or 1000w? To reiterate, the answer lies in your intended usage. Just list down your requirements and see how best they are served by the models starting from the first category.
RELATED POSTS
---
YOU MAY ALSO LIKE TO READ