Vidiem Tusker Review – This Ultimate Kitchen Marvel Is Designed To Redefine The Way You Cook!
Introduction
Introducing the culinary powerhouse that will transform your kitchen into a hub of culinary creativity – the Vidiem Mixer Grinder 608 A Tusker.
This 750-watt marvel isn't just a mere mixer grinder; it's a versatile kitchen companion designed to make your cooking experience smoother, quicker, and more enjoyable.
About the Brand
Since 1978, Vidiem has been a beacon of culinary delight, spreading joy across kitchens worldwide.
As a flagship brand of Maya Appliances Pvt Ltd (MAL), Vidiem blends unparalleled quality with cutting-edge innovation, earning accolades and trust from homemakers globally.
In 2011-12, MAL successfully migrated the business under the name of Preethi to Royal Dutch Philips and launched the "Vidiem" brand.
Guided by the principle "You Inspire, We Innovate," Vidiem crafts products that seamlessly cater to consumer needs.
Each creation is a result of meticulous development, ensuring utmost safety, reliability, efficiency, and ergonomic design.
With unwavering support from esteemed dealers and distributors, Vidiem's mission is clear: to enrich families' quality of life through exceptional home appliances.
Vidiem Tusker Mixer Grinder Review
Highlights
Powerful 750W ARIA Cu Power 100% copper motor
4 Jars – 1.75L Master Chef Jar, 1.5L Super Juicer & blender, 1.25L Multi jar, 0.5L Marvel jar
Air pump system and quadra flow technology
High-strength Penta Drive couplers
5-year Motor Warranty and 2-year Product Warranty
Product Specifications
| Vidiem Tusker Mixer Grinder Review | Vidiem Tusker Review |
| --- | --- |
| Motor Wattage (watt) | 750 |
| Jars | 4 |
| Colour | Black |
| Item Weight (kg) | 10 |
Why should you buy Vidiem Tusker Mixer Grinder?
The Vidiem Tusker boasts many advanced features that redefine convenience and performance.
Its 750W ARIA Cu Power motor, equipped with an air pump system and quadra flow technology, ensures powerful grinding and energy efficiency.
It provides 40% more cooling, 20% more torque, and 20% more power, all while consuming 10% less energy.
The Vidiem Tusker mixer grinder comes with 4 wide-mouth jars:
1.75L Master Chef Jar used to prepare the batter for Idli, Vada, Dosa, Raw rice, Ice crushing
1.5L Super Juicer & blender for making smoothies, juices, and milkshakes
1.25L Multi jar for preparing scrumptious spices
0.5L Marvel jar for preparing flavourful chutneys
The high-strength Penta Drive couplers, coupled with dynamically balanced Vortex Flow stainless steel blades, eliminate vibrations, extend bush life, and guarantee consistent results.
The innovatively designed Vidiem Tusker comes with the first-ever adjustable vegetable cutter.
You can conveniently cut vegetables for making your favorite Curries, Subji, and Sambar in 4 different sizes – 35 mm, 30 mm, 20 mm, and 12 mm.
You'll simply love this additional and unique feature of Vidiem Tusker.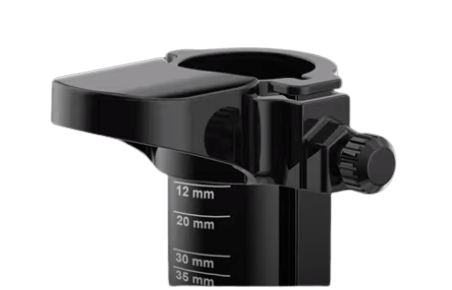 Vidiem's Adjustable Vegetable Cutter
Cut half a kilo of vegetables in just 40 seconds!
Moreover, another unique feature of the Vidiem Tusker mixer grinder is the Dicing attachments.
They come in two sizes – for big dicing and small dicing of vegetables.
The Design and its Benefits
Crafted with both aesthetics and functionality in mind, the Vidiem Tusker boasts a wide base cool-touch body that's as stunning as it is practical.
The self-locking jars, a unique feature of this model, ensure secure mating of the jar with the mixer base, minimizing wear and tear and allowing easy "Pick & Place" of jars.
The Self-Lubricating Bronze Bushes are designed to give you a trouble-free experience – year after year.
The ergonomic sturdy handles incorporate Square-Shanked Bolts & Nuts, providing a lifetime of secure use.
How is it different from the previous models?
What sets the Vidiem Mixer Grinder 608 A Tusker apart from its predecessors is the inclusion of the innovative Multi Chef Jar, a two-size dicer, and an adjustable vegetable cutter with four different sizes.
This feature is a game-changer, simplifying your cooking process by cutting down prep time.
Moreover, the Endurance-tested motor for 3500 cycles ensures unparalleled longevity and performance.
Why is this best for you?
If you're someone who values efficiency and perfection in the kitchen, the Vidiem Tusker is your ultimate culinary companion.
Its ability to handle an array of tasks – from grinding, mixing, and slicing to kneading and juicing – reduces your kitchen time significantly.
The inclusion of the Multi Chef Jar takes it a step further, making complex tasks like chopping and dicing a breeze.
Vidiem Tusker Mixer Grinder Video
Benefits & Drawbacks
Let's look at some of the Benefits (Pros) & Drawbacks (Cons) of this product.
Pros
Powerful 750W motor with innovative cooling technology for extended use
Unique Multi Chef Jar
World's first adjustable vegetable-cutting attachment
Dicing blades for dicing vegetables
Self-locking jars for hassle-free use
Aesthetically pleasing design with a practical wide base
Vortex Flow Balanced Blades for consistent results
5-year motor warranty and 2-year product warranty for peace of mind
Cons
Delay in delivery at some locations
Our Opinion
In conclusion, the Vidiem Mixer Grinder 608 A Tusker isn't just a kitchen appliance; it's a revolution in your culinary journey.
Its innovative features, powerful performance, and thoughtful design make it a must-have for every cooking enthusiast.
Say goodbye to tedious kitchen chores and embrace a new era of cooking convenience with the Vidiem Tusker.
Vidiem Tusker Vegetable-Cutting Demo Video
More Resources To Help You
Frequently Asked Questions (FAQs)
What is Vidiem Mixer Grinder 608 A Tusker?
Vidiem Mixer Grinder 608 A Tusker is a versatile kitchen appliance designed for tasks like mixing, grinding, slicing, dicing, and more.
What is the motor power of this mixer grinder?
The mixer grinder boasts a powerful 750W ARIA Cu Power motor for efficient performance.
What are the unique features of Vidiem Tusker 608 A?
It features self-locking jars, Vortex Flow Balanced Blades, and an adjustable vegetable cutter.
Does it have different speed settings?
Yes, it offers pulse and four-speed settings and pulse for precise control.
Is the motor durable?
Yes, the motor has been tested for 3500 cycles and comes with a 5-year warranty.
Can I make juices and smoothies with this mixer grinder?
Absolutely, the 1.5L Super Juicer & blender jar is perfect for making smoothies and juices.
Is it easy to clean?
Yes, the mixer grinder features a single-piece body, wide-mouth jars, and a stainless steel bowl for easy cleaning.
Does it have a warranty?
Yes, it comes with a 2-year product warranty and a 5-year warranty on the motor.
Are the jars securely attached?
Yes, the self-locking jars ensure secure mating with the mixer base, reducing wear and tear.
How does Vidiem ensure safety and reliability?
Vidiem prioritizes safety by designing products to be safe, reliable, efficient, and ergonomic, enhancing your culinary experience.
---